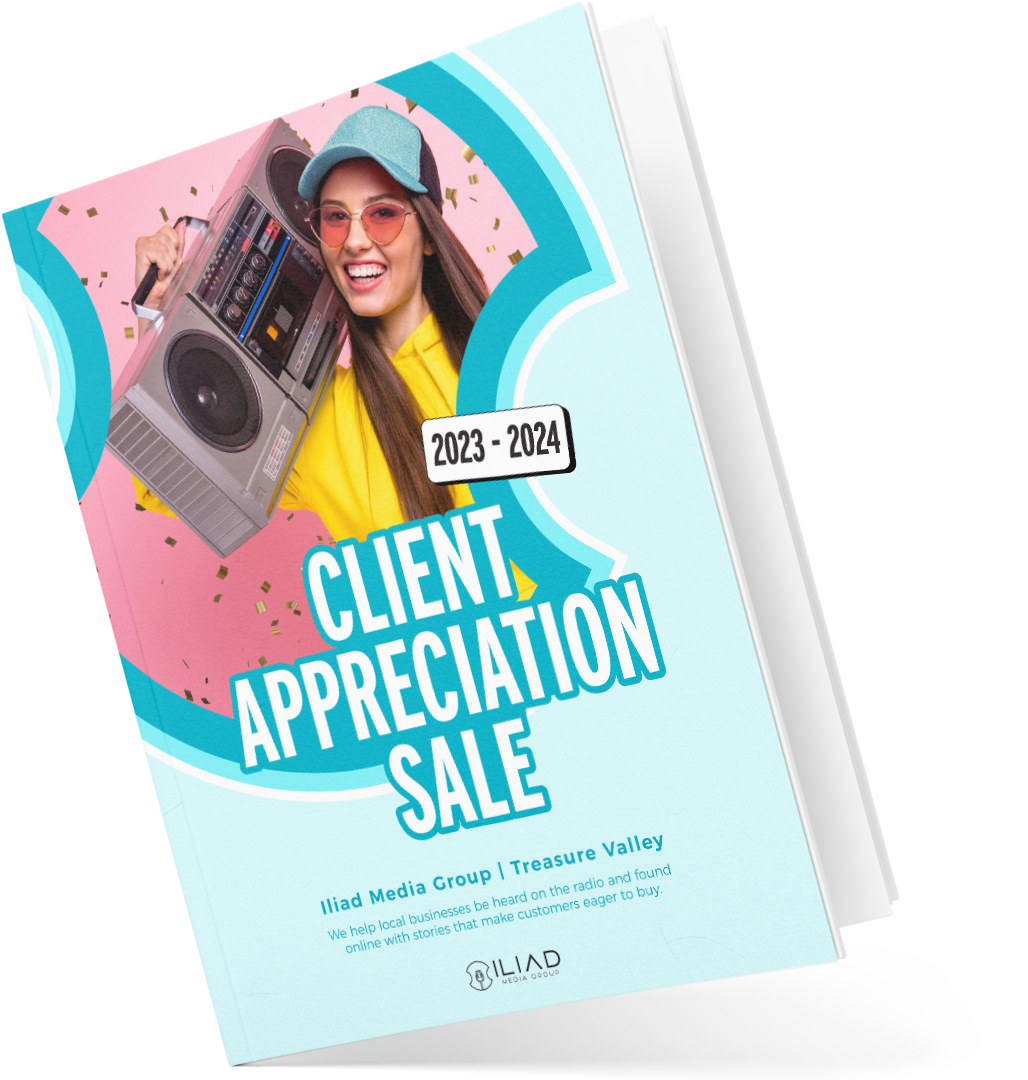 Get the word out and turn your company into a revenue-generating empire.
This isn't just about Iliad Media Group's big annual sale. This is about getting radio advertising up to 50% off and turning your business into a booming success.

During our Client Appreciation Sale, we make it easier than ever to be heard on Idaho's most listened-to radio stations, like 96.5 The Alternative.
Fill out the form and get the sales guide
Schedule a call with a local Account Executive
Get absurdly discounted rates, up to 50% off
Go from business owner to business legend!
We only offer these rates once a year and for a limited time. Inventory does run out. Hurry up and get your guide.
Radio Advertising up to 50% off*

When it comes to your advertising budget, you want every dollar to go as far as it can. These rates aren't going to be around long. This is a can't-miss opportunity to be heard on the stations that Idahoans listen to the most, like 96.5 The Alternative.




Don't just take our word for it.
"Iliad Media Group gave my business an awesome top-of-mind awareness campaign with high impact radio in Boise, Twin Falls and Idaho Falls. Sales increased 48% vs. the prior year after just 90 days of advertising with them."


"We wanted to reach local Treasure Valley residents in a creative way. Iliad designed a contest campaign that saw entries increase year-over-year by 450%. Over 2,700 people opted in to receive continued email messaging. As Coors would say, that's pretty chill."
"It's hard to stand out in the competition, especially with plumbing. Iliad Media Group had their local on-air personalities endorse our company and our web traffic increased by 47% in just four months. We're really happy with the results."


On the fence about radio?
It's hard to know. After all, radio has been around for over a century. Does it still work?
The numbers are clear, radio consistently reaches more consumers than any other form of audio.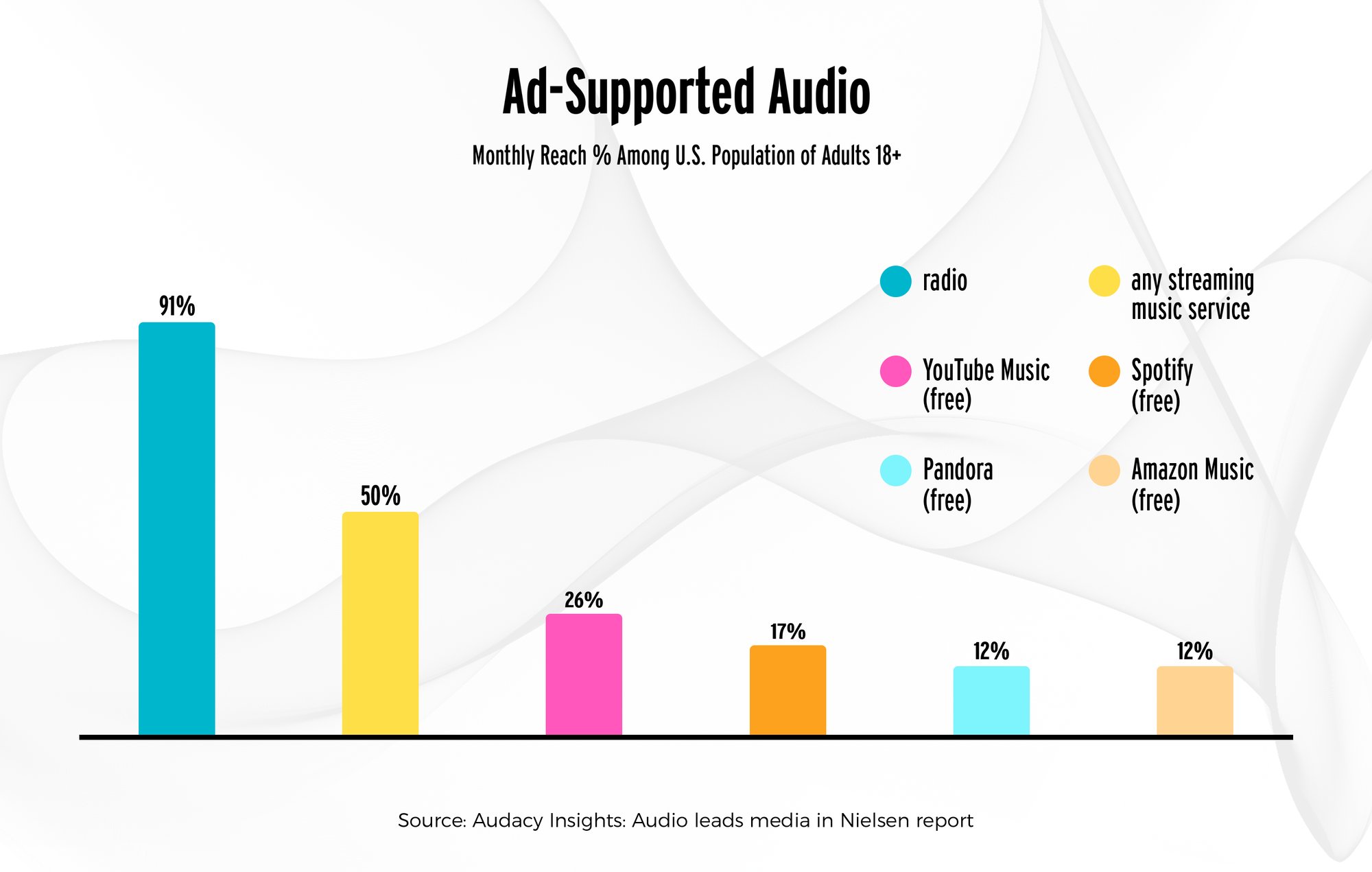 Frequently asked questions about radio advertising
Does radio actually work?

Absolutely! In fact, radio is the biggest reach medium, and when you have the right station, the right target audience, and the right message, it can be one of the most effective and affordable forms of advertising.
How do I track my radio advertising to see if it's working?

Iliad Media Group has amazing analytics that allow us to show spikes in traffic to your website within ten minutes of your commercial airing. Each month, your Account Executive will provide a detailed report, so you'll be able to see the difference your commercial(s) made in driving customers to your website.
Who creates my ad and how much does it cost?

You are always welcome to bring your own ad or radio copy. Otherwise, your radio ad will be written by one of our exceptional account executives using the information you provide them. Once it's written, you get the chance to review the script and recommend any changes. Once we have your approval, our production team gets to work on making it come to life on air. And all at no charge!
It's tougher than ever to stand out.
As Idaho's only locally and employee-owned radio group, your success is our success.
Grab attention, get more customers through your door, and be heard A LOT on the most listened-to stations in Idaho.
We only offer these rates once a year and for a limited time. Inventory does run out.

Hurry up and get your guide now.
Offer for a limited time only. *Each station and schedule has its own rates and different discounts.